About Andy J Wirth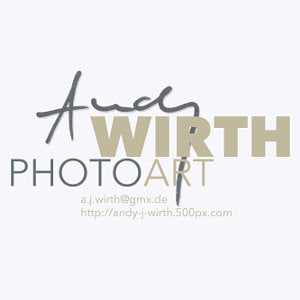 ---
Biography
See the world in my own way
My Passion: Photography, painting with light!
My Signature: To capture emotions, moments, objects, locations and people with all aspects of light and shadow, seen my way.
My Shootings: It is all about telling a story, where the main actors, model and location transpose the values, desires and expectations of the client into a new form of expression.
Die Welt auf meine Weise sehen!
Meine Passion: Fotografieren, das Malen mit Licht!
Meine Signatur: Emotionen, Momente, Objekte, Orte und Personen mit allen Facetten von Licht und Schatten auf meine Weise herauszuarbeiten.
Meine Shootings: Bei meinen Shootings geht es darum, Geschichten zu erzählen, in denen die Hauptakteure, Model und Location, die Werte, Wünsche und Erwartungen des Auftraggebers in eine neue Ausdruckform transferieren.
Contact
Location